DIGITAL STUDIO INSIDER WELCOMES:
Angry Birds' Mighty Eagle: Live Global-Teleseminar and Interview with Peter Vesterbacka
CMO, Rovio Entertaninment
Monday, December 9, 2013 – 8:00 PM to 9:00 PM (PST)
Global-Teleseminar Series Connects Leaders In Digital Media and Entertainment…
December 9, 2013 marks the season premeier of Digital Studio Insider, a unique global-teleseminar series created, hosted and produced by Dr. John G. Locke, founder of The Mystic Media Group and Chief Creative Officer at The Digital 360 Agency, from the heart of Silicon Valley.
Dr. Locke will Interview Angry Birds' "Mighty Eagle" Peter Vesterbacka, CMO of Rovio Entertainment, creators of the Angry Birds games and media franchise.  This pioneering global teleseminar series will be conducted from a virtual-set, live in front of a studio audience in Silicon Valley, California.   Local and Streamcast registrants from around the world will be given the opportunity to have their questions answered directly by Peter.
Angry Birds, the mobile game and media distribution platform created by Rovio Entertainment, is currently being used as a case study in Dr. Locke's graduate course in Digital Media Distribution where he currently lectures as a Consulting Graduate Professor of Digital Arts, Marketing and Entrepreneurship at International Technological University.
Meet Our Guest:
Peter Vesterbacka:
Mighty Eagle, Chief Marketing Officer Rovio Entertainment
Peter drives the company's marketing and brand strategy, taking Angry Birds to new and unexpected places.
About Rovio Entertainment: Rovio Entertainment, founded in 2003, is an industry-changing entertainment media company and creator of the globally successful Angry Birds franchise. Angry Birds, a casual puzzle game, became an international phenomenon within a few months of its release and is now the number one paid app of all time.
Rovio has launched nine blockbuster games so far for different platforms: Angry Birds, Angry Birds Seasons, Angry Birds Rio, Angry Birds Space, Angry Birds Friends, Amazing Alex, Bad Piggies, Angry Birds Star Wars and Angry Birds Star Wars II. Following this success in mobile gaming, Angry Birds has expanded rapidly in entertainment, publishing, and licensing to become a beloved international brand. Rovio has grown alongside Angry Birds, and the multifaceted entertainment house currently employs more than 700 professionals in its headquarters in Espoo, Finland, and offices in Tampere, the United States, China, Sweden, Japan and the U.K.
Meet Our Host: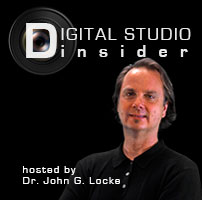 Dr. John G. Locke:
Visionary and Founder, The Mystic Media Group
Creator, Producer and Host of Digital Studio Insider
John is the creator, producer and host of Digital Studio Insider, a Mystic Media Group Production and pioneering global-teleseminar series focusing on innovation in digital entertainment and emerging media. 
Dr. Locke brings over 30 years of experience and insights to the program as a former Digital Media Scientist for Walt Disney Imagineering, Post Production/VFX Supervisor for Pixar, Serial Entrepreneur and Graduate Professor of Digital Media, Marketing and Entrepreneurship.
About The Mystic Media Group:  
The Mystic Media Group is a privately held Blue-Business Incubator, International Accelerator and Transmedia Publisher located in Silicon Valley, California.  Conceived and founded by Dr. Locke, the group has helped create and bring to market several businesses in a variety of sectors.  The companies we choose to work with all share one common theme – leveraging capitalism, innovation and a Blue Business Model to make a profit; and, make a difference.
Follow Digital Studio Insider @ www.TheMysticMediaGroup.com