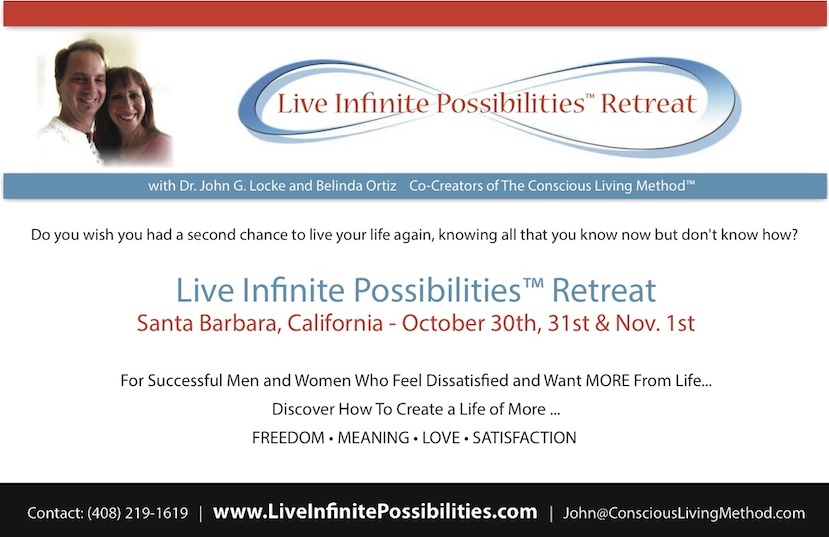 Live Infinite Possibilities™ Retreat |  Santa Barbara, California  | October 30, 31, Nov. 1 2016
​
For Successful Men and Women Who Feel Dissatisfied and Want MORE From Life…
 Redesign Your life for MORE…
FREEDOM • MEANING • LOVE • HAPPINESS • SATISFACTION
Join us in beautiful Santa Barbara, CA for 3 days of deep introspection, dreaming and action.
Based on the Conscious Living Method™, this intimate, immersive experience is designed for those who want more out of life.
About The Conscious Living Method™
The Conscious Living Method™ is a simple, yet powerful self actualization system created to help you discover your personal path to Joy and Success, and align your life with what truly matters most to you. In a world where the majority of people unconsciously plod their way through life, unhappy, reactive and yet unwilling or unknowing how to make the changes they need to succeed and create a life worth living, there is now a new alternative.
The core insights provided by the Conscious Living Method™ have been developed by Dr. John G. Locke, based on 50 years of psychological, spiritual and personal development in collaboration with Belinda Ortiz, Spiritual Mentor and Healer.  The Conscious Living Method™ shows you where you are on your journey, offers specific ideas on how to improve your life and provides a road map to get there.  The Conscious Living Method™ is accessible to anyone, anywhere, of any spiritual path and is the only self actualization system that explores the true nature of human ascension to a life of Joy, Happiness and Success.
There are several ways to experience the Conscious Living Method™ including our:
4-Hour introductory experience
3-Day immersive retreats
About The Creators
John G. Locke, PhD is a Spiritual Entrepreneur with more than 30 years experience in Media, Entertainment and Strategic Business Development Consulting.  He is the Founder and CEO of The Mystic Media Group where he follows his passion for producing inspirational and transformational entertainment and experiences.  "Dr John" is Co-Creator of the Conscious Living Method™, workshops, retreats and the Heart Based Success™ Executive Mentoring  programs. [More Info...]
Belinda Ortiz, A.C.P., A.C.F. is a Love & Life Mentor, Certified Professional Transformational Coach, Intuitive, Energy Healer, Access Consciousness Practitioner and Facilitator. She  is also the Co-Creator of The Conscious Living Method™, Creator of The Love Alchemy Method™ – The Fastest, Most Effective Method to Attract Love and Intimate Relationships… and the Successful Men – Successful Relationships™ programs, workshops and retreats. [More Info...]
Past and Upcoming Workshops:
Conscious Living Workshop
Sat August 6, 2016 – 10 AM to 2 PM | San Jose Center for Spiritual Living (Register Here)
Facilitated by: Dr. John Locke & Belinda Ortiz
Dr. John and Belinda Ortiz facilitate a personal journey of deep introspection and self-expansion. In this 4-hour workshop you will explore psychological and spiritual practices that empower you to access inner knowing, self define "Joy and Success," and create a workable plan for getting there. This experiential workshop includes meditation, visualization exercises, and self-discovery processes and concludes with a tangible road map for success. Come create your version of a world that works for everyone!
$40 Early Bird registration, $50 at the door | Please Bring "Brown Bag Lunch" for Working Lunch Session
For additional information or to request a program for your own center, please contact John@ConsciousLivingMethod.com  or call 408-219-1619